[dropcap]I[/dropcap]ndia being a secular country follows various religion like Hinduism, Sikhism, Christianity, Islam, Jainism and many others. With all this in hand Indians also follows another two religion ie: Movies and Cricket. Yes you read it right I call those "religions"and I have facts to back my words.
Being an Indian you might have seen a cricket match in a stadium or else on TV for sure, and every time Sachin Tendulkar is in the team, you would see a poster which says "If cricket is a Religion then Sachin is the GOD",This is just not in poster, Sachin is literally worshiped. One of the biggest fan of sachin is Sudhir Gautam, You must be wondering who he is but when you see the photo of him holding the world cup with Sachin Tendulkar, you would recognize him for sure. You must be seeing glimpses of him every time India plays. Sudhir Gautam, the man whose body is colored in tri-color and waves the Indian flag and blows his conch shell at every venue India plays is believed to be the biggest fan of the Indian cricket team, he lives and breathes cricket, seeing his craziness he is now fondly know as the Indian 'chacha' and even it is believed that his tickets are sponsored by the Master blaster himself.
Maruti Mohanty

With the above, it does not means that the other players in the team are less looked upon. Whenever comes an ICC tournament like world cups, you would see many 'Hawans' (holy fire ritual) and pujas been done for the Indian team where each player in the team is worshiped and treated like Gods. With more than 35 crore people following cricket, it is surely a religion in India.
Now coming to the second religion "Movies", Like Cricket, Movies, may it be south or north has a loads of fan following and so does the stars of these film Industries. Shahrukh khan is believed to have more fan following around the globe than the hollywood hunk Tom cruise, I too wondered about this fact when heard it for the first time in a talk show.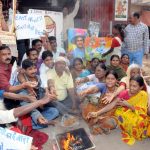 Stalwarts like Amitabh Bachchan in the north, Rajinikant down in the south are Gods to their fans. People in Kolkata consider the Bollywood superstar Amitabh Bachchan as 'God' and they have even established temple in south Kolkata when Amitabh Bachchan was hospitalised in 2008, the fans performed a 'hawan' for his good health at the Kalighat temple. Kolkatans consider Bachchan their son-in-law because the actor is married to Bengali Jaya Bachchan. Amitabh Bachchan is also the first Indian to notch up 30 lakhs followers in Twitter.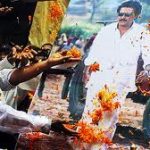 Rajinikant the superstar, the chuck norris of India has a whopping number of fan followings he is worshiped by his fans as much for his acting as for his philanthropic activities. He converted one of his banquet halls, the Raghavendra Marriage Hall, to a charitable trust to help the needy. It is believed he has distributed Rs 12 Lakhs as relief to the family members of the bereaved in the bomb blast in Coimbatore. He also donated 1 crore rupees to the 2004 Tsunami Relief Fund by the state of Tamil Nadu, in January 2005 to the then Chief Minister of Tamil Nadu, J. Jayalalitha, in person. On October 31, 2008, Rajinikanth donated 10 lakh (1 million) rupees to the Sri Lankan Tamil humanitarian aid during the protest and hunger strike, organized by the South Indian Film Artistes' Association, in support of the Sri Lankan Tamils struggling in the on going civil war on the island. It was the highest amount given, in a draw with Lawrence Raghavendra who set up his own campaign to raise money. With 100 of millions following Cricket and Movies, These are surely a religion in India.
Disclaimer: The above feelings about religion is purely mine and you have every right to differ.
Maruti Mohanty is an open source Developer in Bhubaneswar, a happy go lucky guy who loves Cricket, Travelling and Learning different languages.
You can follow him at twitter : https://twitter.com/maruti_mohanty
[signoff1]