JAGATSINGHPUR Feb 27. The script remained the same, only the location was different, chief minister Naveen Patnaik did an encore of its pre election district shows at Rahama in Jagatsinghpur district on Wednesday, castigating the step motherly attitude of the central ruling congress led UPA government neglecting Odisha on every front including Naveen intoned his success story during BJD regime.
Naveen who was on a whirlwind tour to the Rahama under Paradeep assembly constituency on Wednesday laid foundation stones of a HL bridge over river Mahanadi at Khosalpur , a NABARD assisted Rs 48.66 crore project and new PHC building and staff quarters of Rahama primary health centre and addressed a public meeting held in Rahama College field.
Speaking at the public gathering Naveen accused union government creating hurdles in the path of Odisha's progress, giving instance Naveen described the yesterday rail budget as grossly insufficient , the central government has once again given step motherly treatment to the Odisha, especially when state government is giving more than Rs 14,000 crore revenue per annum to railways. The state government had sent a memorandum to the union railways ministry seeking Rs 3050 crore in the budget, an all party delegation led by assembly speaker Pradip Amat had also met the union railway minister pleading Odisha's case granting more funds for railways development in state , ironically the railways maiden budget has sanctioned about Rs 869 crore for all rail projects in the state which is far behind our expectation , Naveen informed
However Naveen maintained last year we had made a similar demand for Rs 2,345 Crore to railways but got only Rs 721 Crore which was subsequently reduced to Rs 444 Crore , so it shows how the union government is not cooperating with Odisha government due to its anti congress stance, moreover Naveen criticized the union rail budget and said the proposal to link freight charges which would have a cascading effect leading to rise of prices of essential commodities, he said.
The state is full of mineral resources, centre is stalling our industrial projects and trying to arrest the progress march of the state even we were unable getting our reasonable mineral dues from union government in spite of our repeated claim, Naveen revealed.
Reiterating his government's commitment to the development of the state Naveen said my government has been very particular about the socio economic development of the state and uplift of the poor and downtrodden, the government has been making efforts to alleviate poverty in the state , recently we have introduced Rs 1 a kg rice scheme for BPL family, the government has been making efforts to introduce health insurance for the farmers , for the first time Rs 7 thousand crores has been earmarked for agriculture sector including Rs 4 thousand croroe for the irrigation benefiting farmers in state in current budget 2013-14. Highlighting the achievements of his government Naveen asserted that my government has taken various steps in the fields of agriculture, horticulture, education, communication and health sector in past 13 years rule, he informed.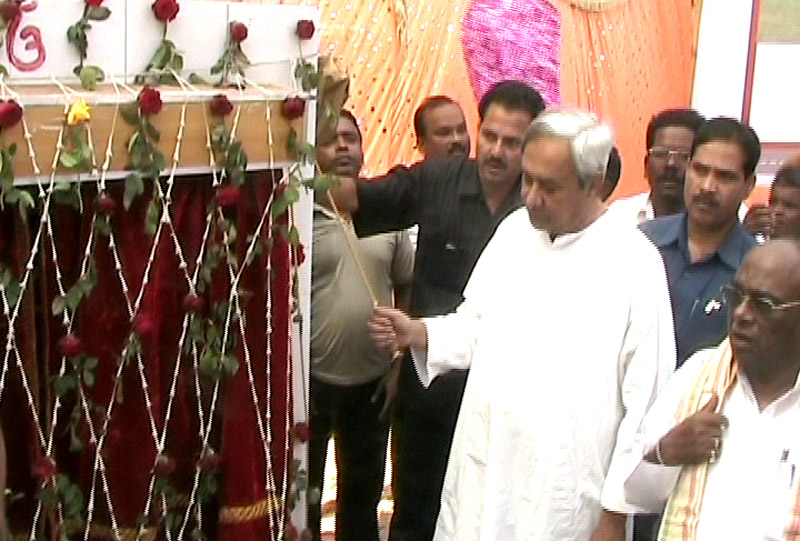 T he state Health and family welfare minister Damodar Rout addressing the gathering said a long standing demand of people living in Mahanadi island area fulfilled as chief minster laid the foundation stone of the Khosalpur bridge over river Mahanadi , reiterated various developmental measures have been adopted by Naveen Patnaik led state government.
Barabati- Cuttack MLA Devasis Samantry who spoke on the meeting said BJD government led by chief minister Naveen Patnaik has given a clean governance to Odisha people so he appealed people strengthening the BJD for coming election.
After the public meeting chief minister had distributed tri cycles to the physical challenged victims, felicitated few farmers who had yielded highest paddy production in Jagatsinghpur district and gave cheqe to the SHGs members for enabling them self earning.
On the flip side BJD's district president and senior MLA Bishnu Das including his colleagues MLA Tirtol Ravi Bhoi, Balikuda- Erasama MLA Prasant Muduli were absent during chief minister's visit, interestingly MLA Devasis Samantry and minister Damodar Rout jointly arranged the Naveen's visit to Rahama only BJD leaders from Paradeep assembly constituency had seen in the meeting.