JAGATSINGHPUR Apr 27. In a major breakthrough, police on Wednesday arrested three IOCL land losers' organization leaders from their native villages and forwarded them to court. The leaders were identified as prominent anti Posco leader Abhya Sahoo, former Zilla Paraishad member Sarada Jena and Bipini Moharana .
Police sources confirmed that the alleged leaders were picked up from their native villages on Wednesday following their illegal involvement with IOCL ongoing stir and presented before Kujanga court on Wednesday afternoon and court forwarded them to jail.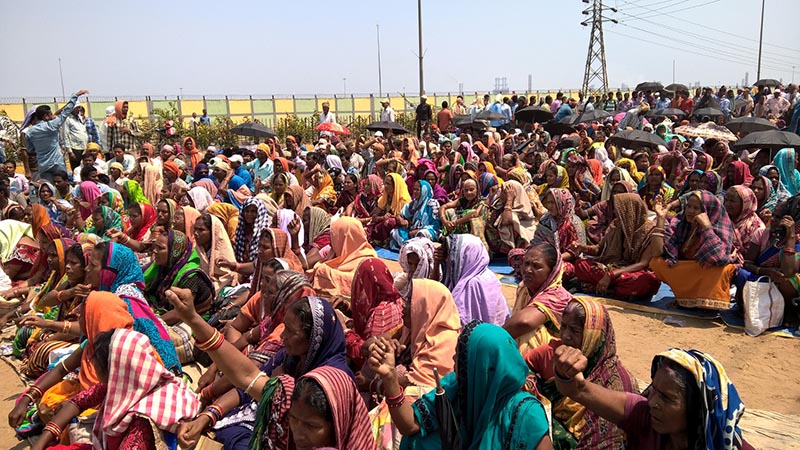 Soon after the news reached Para dip hundreds of activists including women under banner Jamihara ekata Krushak Mancha arrived at the IOCL plant site and resorted Dharana demanding immediate release of their leaders and held protest meeting.
Later the agitators rushed to Abhyachandpur Police station inside IOCL premises and staged demonstration. The agitators claimed that we have launched stir fulfilling our longstanding demands in peaceful manner past two days. Meanwhile district administration and IOCL authority have indicated on Tuesday that our demands would be considered after a meeting with our leaders, but strangely cops arrested our leaders with a motive to suppress our agitation under illegal way as consequence we decided to intensify our stir, IOCL and district administration should fulfill our demands and immediate release our leaders, informed Mancha leader Prakash Tripathy. Sources added that heavy security arrangements have been made inside the plant site, 4 platoon of police force and CISF personnel were deployed to avert any untoward situation.