Let me go, the chillka of eye
To the world of distress,sorrow and cry.
Cherished to live all around you
My hope melted as mountain's dew.
Away have gone my happier days
My fate flutters in road's garbage.
Living in society-unsocial
Having intellects, not intellectual.
When I try to make a laugh.
Most often foiled by nature's clap.
People are destined to live in joy
A foolish is me only to cry.
Ever-whipped by waves of sorrow
My life is a track like water's furrow.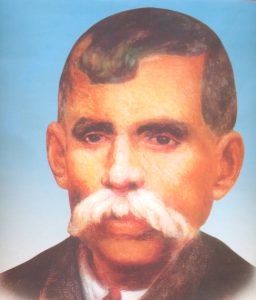 Happiness, sparking in the eyes of the world
In my fate turns Democlesce's sword.
Happiness slips from hand to hand
Not an Oasis, but Arabian sand.
Never was I in search of that
Eyes to blindfold sans cataract.
Rather ,I longed for a perpetual-
Intimacy with an intimate pal.
You are my wealth inexhaustible
You made my life comprehensible.
Fortunate were they life- time
Loved and praised in the prime-time.
Bhanja-Bira, Baladev two great –soul
Blessed with Vinapani, immortal soul.
The couplet echoes in the musical tone
Let bygone, friend, be bygone.
Victory to you "the poet-laureate"
On earth you have conquered the death.
Physically smashed in the crematorium
But lives in the heart of every Indian.
Where were they and where I am
Swimming in the fog to break my arm.
Without knowing my span of life
Building the castle in the air, so rife.
Along with sketching sky-scrapper's height
I was dreaming in the broad day-light.
The dream was startled by horror of sense
To see such dreadful ingredients.
Meeting and parting with life and death
Breaking my fanciful Taj Mahal gate.
Never did I forget you-
Despite detractor's ugly interview.
The angelic face I had ever seen
Washed away mentally the evil design.
Continuing……………