JAGATSINGHPUR May 17. The Odisha high court judge justice B K Misra on Friday inaugurated the District & Session judge court in Jagatsinghpur and addressed a meeting held in Sadbhabana Gruha inside the collector office here. Speaking on the occasion justice Misra spelled out a longstanding demand of Jagatsinghpur bar association, legal practitioners and litigants put to an end as district judge court functioned from today as result the litigants would get speedy and timely trail of their cases. State health and family welfare minister Damodar Rout, MP Bibhu Prasad Tarai, senior MLA Bishnu Das, Balikuda legislator Prasant Muduli, district judge Cuttack Satrughan Pujar, newly appointed jagatsinghpur district judge G C Behera, judges lower courts here, senior advocates R K Khatua, G C Kanunogo, R N Mohanty were spoke on the occasion, district collector S K Mallick presided the meeting, earlier visiting high court judge had inaugurated the newly constructed district judge court building inside the collector office.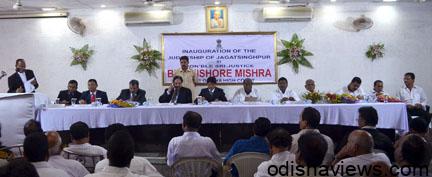 District natural calamity committee meeting.
JAGATSINGHPUR May 17. The district administration on Thursday hosted Natural calamity committee meeting under the chairmanship collector S K Mallick inside Sadbhabana Gruha here. The meeting discussed several issues pertaining during any natural calamity and administration's readiness to curb the difficulty. Collector stressed immediate repair of weak points have been noticed by irrigation department in several rivers embankment and asked the line department to complete the work before June 2013, revenue and block officials had been altered to stock relief stuffs in their block headquarters including feeding for the livestock. The meeting decided to start a control room at district headquarters including each in block office would be functioned round the clock for monitoring relief and rescue operation during calamity and giving information to the general public over possible natural disaster likely be occurred. The meeting was attended by MLAs Bishnu Das, Prashant Muduli, project director DRDA, Zilla Parishad president, block development officers, Tahasildars, executive engineers from several line departments and senior revenue officials.