[dropcap]K[/dropcap]uaanra Punei Jahna Go Phula Baula Beni,
Odisha is a festive land through ages. A good saying in for Odisha is "Bara Maasare Tera Parva", that mean Odisha is a land of Festival. It's well-known tradition of Oshas, Bratas and Melas justify properly the saying. Like Raja Festival Kumar Purnima is also the most popular and important festival of Orissa for young Girls. After festive ceremony of Dussehera on the full moon day the Kumar Purnima is celebrated by all the unmarried girls & newly married brides in the state.
What a Girl wants as a Husband. He will be handsome, courageous and caring. Seeing to all the aspect it is believed that girls worship Lord Kartikeya to get grooms as handsome as Lord Kartikeya the elder son of Lord Shiva. Lord Kartikeya is Handsome and famous for his braveness as he also became the 'God of war'.
[pullquote_left]"Kuaanra Punei Jahna Go Phula Baula Beni,
Kuanri Jhianka Apurva Ananda
Puchi Khelibaku Mana Go Phula Baula Beni…"[/pullquote_left]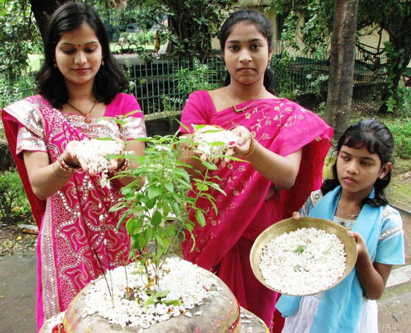 As young girls always wish for a handsome husband, they propitiate Kumar who was most handsome among the Gods. But he is not a married man for this peculiarly enough there is no ritual for the God, instead the Sun and the Moon are worshipped. Here Sun represent power of braveness and Moon represent Cool and caring beauty.
In the early morning the girls after their purificatory bath before sunrise and pray God for smooth marital life , wear new garments and make food-offerings to the Sun. They observe fasting for the day. The girls in groups sing special songs programmed for this particular occasion. In the evening when the moon rises they again make food offerings of a special variety of Prasad and take it after the rituals are over. The worship of moon God is held at home as Janha Mamu (Moon, the maternal uncle.) brings them various delicacies and new clothes. It is a festival of rejoicing for the girls. All of them sing and dance. The songs are of special nature. They also play a kind of game known as 'Puchi'. They also indulge in other varieties of country-games .
Puchi Dance

Puchi dance of Odisha is purely representing the theme of the festival. Puchi are of several kind they were Thia Puchi, Basa Puchi, Daudi Dian, Khapara Dian and Gangarani. Puchi involves both aerobics and rhythm of dance. Out of this Thia Puchi is played in standing position and Basa Puchi is played in squatting position. Puchi performers move their whole body, the hands, and especially thighs and feet to the rhythm. Basa Puchi is such a aerobic and martial art type of Dance which not only give festive flavor but also Waist, Belly and Thigh are so well moved in this form of dance it can be treated as a beauty treatment for woman in the form of dance and festival. Specific movement of Waist, Belly and Thigh not only lower down abdominal disorder but also give a good posture for young girls for their beauty which specially lie in these three perfect position of the body. It helps the Young girls very much at the time of child delivery which specially affect the three portion of the body and the child delivery will be smoother and one can get healthy child. Braveness , beauty , healthy and festivity in the form of dance is the reality behind the worshipping of Kartikeya, Sun and Moon.
The Gajalaxmi Puja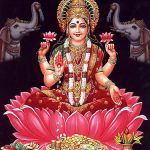 This day is also observed as the birthday of Goddess Gajalaxmi, people pray to the goddess of wealth. Idols of Laxmi and Kartikeya, flowers, sweets, clothes and jewelry are some of the gifts. For promotional the corporate sector can make gifts on this day to celebrate the Goddess of wealth. Therefore, many people worship the Goddess at their homes and keep themselves awake by playing Pasha (Chess), and other indoor games. It is a belief that those who wish to acquire wealth should always be vigilant at night. It is for this reason the owl( Bahana of Goddess Laxmi), a bird that sleeps in the day and comes out only at night.
Goddess Laxmi symbolically represents the need for cleanliness. First and foremost step is to clean the house. Through the puja we are inviting Goddess Lakshmi to our house and she likes everything to be neat and clean. In some communities, even the broom is worshipped on the festive day to representing cleanliness is the basics before offerings of Puja.
Namosthesthu Maha Maye,
Shree padee, sura poojithe,
Shanka, Chakra, Gadha hasthe,
Maha Lakshmi Namosthuthe