Thanks to the dilly- dallying attitude of Rural Water Supply and Sanitation [ RWSS] department , Jagatsinghpur, today large number of villages and hamlets in Erasama and Balikuda blocks most of the tube wells have turned defunct and yet to be repaired, the proposed supply of pipe water to the worst hit water scarcity 5 Panchayat's from Naradia water supply project yet to be functioned, moreover perennial water supply in tankers to the water shortage regions have sporadic that adds the habitants woes, report said.
The villages reeling acute water crisis include as Bhajakhia, Patuua, Suakunda, Ghasua, Patharkanda, Salio, Saharkanda, Kadalibari and Belari. The poor flow of water in the rivers, tributaries, and drying ponds have coupled water woes for residents in these areas, people in certain areas travel upto5 to 7 kms to fetch water for their drinking and domestic needs.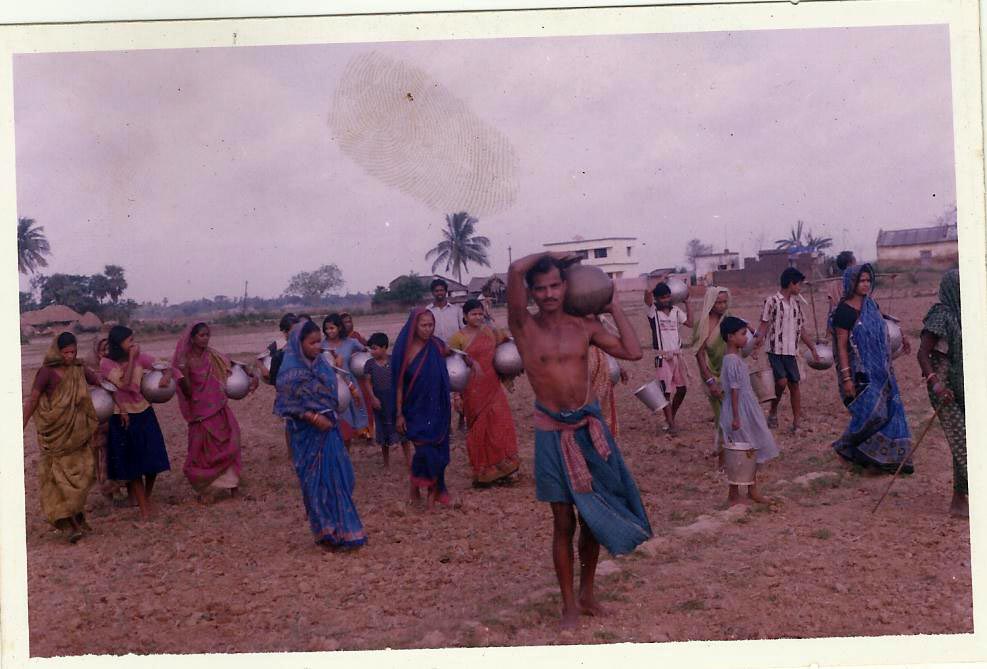 A group of people have taken maximum opportunity of the ongoing water crisis and have started doing business on the plights of the locals, getting water from certain nearby areas in big drums, and other containers they have been selling those to the residents in affected areas at high prices, informs Pratap Sahoo, former Sarpanch of Goda GP.
A senior citizen from Bhajakhia village Ananta Pradhan says, water crisis has been a regular summer feature in the areas since years, however this time the situation seems to have worsened when yearly water supply by RWSS department runs rough weather and sporadic which has thus allowed sale of water in containers the practice has been started past three years, he explains.
Lalita Mandal ward member of Ghasua village adds women have to walk 4 km Patua village to get water from a private owned well all the season, the well owner Balaram Das describes himself proud for well when its gives drinking water to nearly 200 families round the year of Patua, Suaukuunda, Ghasua and Patharkanda villages.
All our complains with the Panchayati Raj institutions and district authorities in this regard have proved futile, even during tenure ofminister Damador Rout who was MLA from Erasama constituency nothing has been done by him to reduce the sufferings of these villages, overall public response added.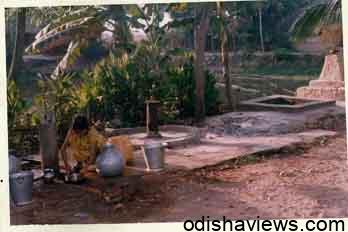 Looking perennial woes of residents from early March each year RWSS department is usually started supply of drinking water in tankers, this year the practice too launched in time, the allegations supply continues sporadic is fake and politically motivated, explained Antrayami Nayak ,RWSS executive engineer.he explained that due to presence of turbidity, alkalinity, and chloride contents in the ground water at number of villages it has not been possible to sunk required number of tube wells or repaired the defunct one in theses areas, Moreover RWSS department explains that for mitigating local's water crisis the Naradia water supply project is under progress but did not clarify reason behind delaying the project tilldate, on turn residents inform that state chief minister Naveen Pattnaik had laid the foundation stone of Rs.4.58 Lakh Nardia pipe water project in 11 June 2002 ironically the project yet to be completed after passing of 11 years , the works of Naradia project underway in slow pace when two Panchayat's have been completed pipe stretching and the project is battling for funds constraint and the assigned main contractor has abruptly left the work owing several reasons as consequence the project is delaying , locals add