Write up about my Father by a Train co passenger (1979-October) :
In 1979 after the Dusherra my father decided to go to Puttupatti in Andhra Pradesh to visit Sri. Satya Sai Baba's Ashram and for the same he took a Train Journey from Tata Nagar in Tata Madras Train. He meet an Engineering Student who was studying in Madras(Chennai) and he was interacting with my father for some time. (I am unable to get his name and address), the following write up is from that person.
The sudden demise of Mr.A.Tripathy a great shock, a bolt from blue for me and for many near and dear one who has ever come in contact with his dynamic personality.
"Life is eternal…. Death is only a horizon  and horizon is only to save the limit of our sight"
Just  a few days back he left us! Yet will guide us on, the shining light that illumines our horizon.
The live memories, the past nostalgia which still haunting me, is painful, pathetic and pinching. Last summer when I made for Madras (Chennai) for my studies, I was with my Dad, who came to see me off, accidentally met him at Bolangir Station. I had then a nice, heart touching conversation with him up to Gudur in that running train. He never made me feel going with a stranger, during the journey. How lovable, affectionate he was! At Gudur Station he got down, putting over my heart an image of his cordiality. From Gudur we went to Tirupathi, from where he informed me of his journey to Puttaparty. Then he wrote me a letter to visit Puttaparthy at least once in my life time. After that he used to write me, whenever we got time.
In the short span, when I was with him, really I was over joyed. So far I am concern, he is a rose and more precisely He is a lamp for me.
Dr. Radhakrishnan has said, " Light is good in whatever Lamp it may burn, even a rose is beautiful wherever it may bloom".
What I know, he was having a learned and wise personality. He knows himself and knows others in a wider scene of view. Al Lao-Taz said, "He who knows other is learned and the who knows himself is wise".
May his action be a burning inspiration for us, for him, he was a man of perfect life.
An Oriya Poet once said, " Your mortal body is swallowed by the burning portal but your fame body is always immortal".
At last I beseech, May his soul be in peace in the favorite world of God.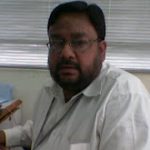 [quote]
About Author : Mr. Keshav Tripathy is a distinguished technocrat,
leader and visiting faculty (in Xavier Institute of Management, Bhubaneswar
& National Institute of Science and Technology, Berhampur). He is also a
member IT Advisory Panel to UNFPA and UNICEF.
[/quote]
[signoff1]