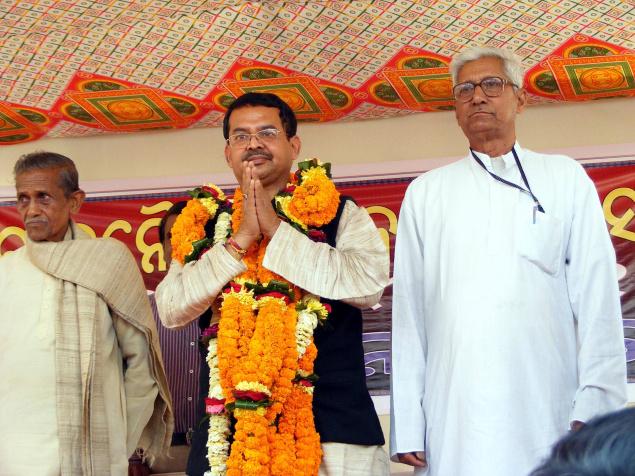 Utkal Bharat demands arrest of BJP legislative leader Jay Narayan Mishra
Bhubaneswar, Date-17.04.2013:- Recently during the Hanuman Jayanti procession held at Sambalpur the BJP legislative party leader and Sambalpur MLA Sri Jayanarayan Mishra had reportedly attacked the District intelligence bureau DSP Sri Yeshwant Senapati In public. Utkal Bharat condemns the incident.
Incidentally few days back the daughter in law of Sri Raghunath Mohanty had alleged of dowry torture against him and his family. BJP along with Congress party had demanded resignation of Sri Mohanty from the Cabinet and his arrest. BJP Mahila Morcha had also burnt their effigies in protest. Subsequently Sri Mohanty had to resign from the Ministry and was arrested on 14th April during Hanuman jayanti procession in Sambalpur the same BJP leader Sri Mishra has beaten DSP Sri Senapati in public the SP Sri Dillip Deo was also reportedly present on the spot and was assaulted. The scenes of the incident was published in news paper and shown in TV channels.
Such attack by a people's representative on a Police officer is condemnable and Utkal Bharat strongly condemns the incident.
If Police fails to take strong action against such person people will lose confident on their efficiency. Police is placing itself in a very helpless condition by taking no action in the matter.
On the other hand government silence on the issue of a government official misbehaved by a political leader /MLA utterly surprises us.
Utkal Bharat Party demands immediate arrest of Jay Narayan Mishra and two of his associates on the basis of seeming evidences and takes strong action against them.
Please find the Press Release attached