PARADEEP . The Paradeep Port Trust [PPT] one of the major port of the country has registered handling cargo of 56.55 Million Tonnes [MT] in the financial year 2012-13 as against the previous year's traffic 54.25 million tones, is accorded as second highest throughout its 51 years functioning, informed PPT chairman Mr Sudhanshu Sekhar Mishra at a press meet held at state capital Bhubaneswar on 7 April.
According to the statistics provided by the PPT, the port has achieved iron ore export to the tune of 4.72 million tones, thermal coal traffic 21.39 million tones, POL traffic has been increased to 16.47 million tones, container traffic 13072 TEUs around 0.17 million tones and other cargos 7.63 million tones during financial year 2012-13. Following fall of iron ore export on account of international market the trend is signing revival PPT hope iron ore export will pick up in coming years, PPT's yearly business statistics revealed.
Improvement in handling of coal, petroleum products and container cargo has helped PPT overcome with decline in the handling of iron ore, PPT has regarded improve its position from sixth to fifth among major ports of country in terms of material tonnage handling.
The port has achieved several operational records in terms of cargo handling in the financial year 2012-13, a record quantity of 39.11 tonnes import was made during 2012-13 suppressing last fiscal record 35.98 tonnes, about 14.21 tonnes crude oil was imported during 2012-13 against 13.29 tones last year, thermal coal export was received all time high during the year 2012-13 as PPT handled 13.61 tonnes.

Meanwhile PPT's capacity addition has developed its business, two numbers of single point mooring each were commissioned by IOCL in the port water helping to handle very large crude carriers , the capacity of the port has increased from 80 MMTPA to 102 MMTPA that renamed PPT having the highest capacity amongst all major ports in India.
Informing PPT's future plan chairman Mr Mishra revealed the port has taken up a host of projects to increase the capacity from existing 102 million tones per annum to 250 million tones by the year 2020, the achievement of draught of 14 meters as one of the major reasons for the improvement in performance, that has enabled the port to handle 80.000 to 90.000 DWT size vessels and the ongoing dredging work would soon allow 1.25 000 DWT size ships in to the port, chairman maintained.
However environment and forest clearance for one iron ore berth and one coal berth of 10 MTPA capacity has proposed to be taken up on BOT basis through PPP mode including construction of one oil jetty of 10 million tones capacity and a multipurpose berth of 5 MTP capacity is under process , meanwhile the port has engaged an agency to prepare a feasibility report for setting up an inland container depot, and port has invited expression of interest for handling liquid cargo containers in coming days, chairman informed in the press meet.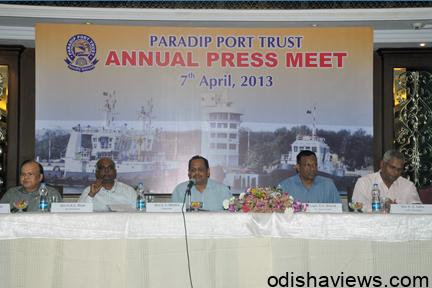 The port has planned to strengthen and mechanize all berths in phased manner with a motive to improve efficiency and reducing cost of cargo handling , in a significant endeavor to heighten safety and security of the port and to ensure seamless vehicle movement inside sea and port Radiological Detection Equipment and Radio frequency Identification Devices have been installed, chairman informed.
In a message to port users, employees, trade unions PPT chief Mr Mishra said , while celebrating success we must always remember that we have a commitment to our stake holders, to make PPT a model port in every sense of the term that others will want to emulate , as we set foot on a new financial year let us resolve that individually and collectively work towards development of Paradeep port, he appealed.