1. Mahabharata as a Historical Back Ground with Geographical consideration:-
Mahabharata is the Greatest epic of world war history considering the geographical location of India also. Every Historian more or less agreed the fact behind the Mahabharata on Geographical back ground.
2.Devanmpiya/Asoka Junagadh Inscription:-
If one has to going to see the Junagadh inscription of Devanampiya/Asoka then in near by site one can not forget the Muchukunda Cave. The story of Mahabharata is thus:-
"Muchkunda was born to the same Ikshvaku dynasty as king Rama. He was so powerful that even Indra would seek his help. Once, unable to bear the onslaught of the demons, the gods came to him for protection. He became their commander and helped them win the battle, but in the process lost his family. Pleased at his service, the gods allowed him to ask for any boon. Muchukunda who had not slept for several ages due to the prolonged fight, asked for a peaceful sleep. The gods granted his wish and he slept for many yugas, till the Dwapara yuga when Krishna arrived. One day, while living in Mathura, Krishna was attack by the demon Kalavayana. He wanted to get rid of the demon and ran to Muchukunda's cave. The arrogant demon thinking that he would be able to kill Krishna, also followed. However, Krishna entered the cave and hid, after quickly covering the body of Muchukunda with the silken robe that he was wearing. When the demon entered he mistook the sleeping Muchukunda for Krishna and tugged at the robe. Muchukunda woke up, startled. Looking around he saw the fierce Kalavaya standing before him and cast such a fiery gaze the demon was burnt to ashes. Then seeing the whole cave illuminated , he started searching for the source of the light and discovered Krishna standing at a distance. Muchukunda shows his devotion and asked Krishna to bless him so that he would always be able to live in service of God ."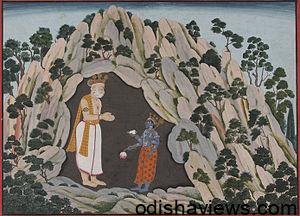 3. Folk Tale is , the Rock is expanding due to a increasing trend:-
What may be local saying , but the rock Edict is so separated in two fold , from this ,one can proof it as a justification of the Folk Tale. That mean it's saying some thing about the anti National Jarassndha history reflected In Devanampiya/Asokan fold.
The said Edict at Junagadh is not only of Devanampiya/Asokan, it containing another two kings edict. Out of them Maha Khatrapa Rudradaman who clearly justifying the anti National activity of Asoka, who has a honey moon relation ship with Yavana to rule over India by a mask of Religious face.
It is the same Girnar not only showing Asokan treacherousness with having the mask of religious face but also showing the Repeat of Ramayana ( Lord Rama is from the same Ikshvaku dynasty), where Ravana also use religious face for Kidnapping Seeta. Here Seeta may be refer to the Land which is an alternative name .

An extra estampages in the bundle of Girnar Edicts which have tattered and around the shape, but Indian Historian work on it but not saying any thing is a grave concern. Dr.E. Hultzsch has made a mention of it and saying about two fragmentation part which was preserved in the Junagadh Museum but not transliterated it. Out of two second one is missing and this is to be properly investigated, which may give the clue of forgery of false Kalinga war.
At last , we can say Asoka is the same repeat of the history of Magadha King Jarasandha whose intention is to Rule India with the help of Invader Yavanas, but unfortunately the false conqueror's history badly surrendering for a pardon from Mahameghavahana which is also a repeat of incarnation of Lord Krishna for reply to incarnation of Jarasandha.