Spiritual Affiliations: 
My Father Late. Ambujakshya Tripathy had tremendous interest in Yogic Science and it happened that he was a regular visitor to Bihar School of Yoga when he was posted in Munger, Bihar and was also keeping good communication with Yogada Satsang Society, Ranchi where he came to know about Lahiri Mahasay and Yukteswar Giri. He did some distance education courses from Yogada Satsang Society too. He stopped non vegetarian food quite early and encourages others not to get influenced by his approach towards food. In spite of his busy schedule and circuit courts he was performing a regular ritual which one Brahmin is supposed to perform and that's what he was teaching me during my thread ceremony (upanayan). He also developed interest to read several spiritual books and documented discourses books
My Father's Marriage  :
The marriage negotiation was initiated in the month of March/April 1944 by my Grand Fathers (both side) and my father was asked his opinion  and consent which he agreed through a letter on 2nd. April 1944. Finally the marriage took place on 4th./5th. May 1944 at village Narsingarh of Singhbhum District. My Mother was 12 -13 years old at that time. My father came back after the rituals to his house and my mother stayed in her parents' house.
My Grand Fathers Death:
My Grandfather Purna Chandra Tripathy passed away at about 2:30 AM on 27th. June 1945. My Father wrote some where " Never Before had I been in a position to see a man dying. Oh God let his soul rest in peace". From  May 1944 onwards my Grand Father's health was decorating it was related to Cough and pain in ribs. My Grandmother did several Shanti Puja and Shiva Puja. But there were not much significant improvement. The Shradha Rituals completed as on 7.7.45.
My Father's sudden demises:
My father who served as District and Sessions Judge in Bihar Judiciary Services, retired from Palamu District on August 31st. 1979 and thereafter he came back to his native Home Town Jamshedpur. We were staying in our own ancestral house at 153, Dhalbhum Road, Sakchi. In the month of Feb 1980 in one afternoon he was feeling feverish and when I asked he said he is managing with Homeopathic medicine. Second day when the fever was still continuing I called our Family Physician and he prescribed some medicine for cold and cough. In next two days nothing worked out and gradually his health was detoriating then the same doctor said its pneumonia and prescribed Terramycin Antibiotic. Situation was getting worse and day after evening we admitted him in Tata Main Hospital and he was gradually getting into critical stage. Next morning i.e on 17th. Feb he was taken to Intensive Care Unit and finally at 2:30 PM on 17th. Feb 1980 he passed away. I was only 18-19  years old at that time and was not able to understand. I took an ambulance and took my father's dead body to Home and realize that this was another greatest shock for my Mother who lost her husband at the age of 47-48 Years only. Last time it was her first son who passed away on September 4th. 1960 at Hazipur. It was trauma and I am unable to describe as I was confined to do duty and rituals for cremation and I never had any feelings to cry and scream as I knew its my Job and Duty as a son to do the last rituals.
A True Sports Person: My father demonstrated his sportsmen spirit in handling adversities and difficult time of Life but never allowed to bring anything to his facial expression so that others will not come to know what is wrong with this ever smiling person. I once asked him how it's possible to do it, he said gradually you will also learn this skill but tell me do you usually make special effort to thank someone who does you a favor..? How do you react when aren't thanked for going out of your way for some one.
Kind Hearted and Ready to help others
He was very special person for so many people whether he was Hawker, Rikshaw Puller, Driver, Cook, or Village inmate, known relatives or unknown relatives because from time and again he helped in terms of providing education and employment with his requests to his different friends who were  holding very Senior Positions in Government and Private Sectors. In virtuous attitudes and behaviors there is a superior logic, a road that leads directly to serenity, freedom and success. But along the way, we have forgotten or lost from sight the value inherent in virtues. We have seen in goodness, kindness, compassion or gallantry something old fashioned or outdated, no longer suited to modern life. But virtues can never be outdated because they indicate the path to salvation, divinity and success. Virtuous attitudes and behaviors of the true self, around which they seem to create an aura of dazzling light.
Today I know that virtuous actions hold within it the promise of success. Virtuous action holds within it seeds to success because it opens a path from heart to material world of concrete achievements.
My father was a perfect role model; a caring and responsible husband, loving family man, loyal friend, and a consummate professional. He was selfless and always put his legal acumen first to extend natural justice for all . He never lost his temper or raised his voice. He had a great sense of humor and wit about him. He led by example. From him I learned the value of integrity, discipline and the satisfaction of a job well done. But most importantly, I learned the power of faith. When I felt strong, he let me lead the way but when I felt weak, he carried me forward.
Once I asked a question to myself
What is the greatest accomplishment of your life ? Is there anything you hope to do that is even better ?
My greatest hope and courage is to attempt to write about my parents who bought me to this world for a worthy living.
I was trying to understand how much we need to learn: Cricket, Study, English, Mathematics, General Knowledge etc and I asked how it's going to be possible to explore so many things:
Once my father told me that the beauty of life is that we never stop learning. Life always has new lessons in store for us. When we are open to learning new things, life is full and life becomes a wonderful adventure. When we are open, we see everything under a new light, we improve our skills and our capabilities, we achieve better results in our work lives and we make our relationships better.
Adapting, learning and success are all closely linked. When I can learn and adopt new approaches, I can succeed. When I am closed; Life is closed to me and I experience more and more difficulties. He was my biggest booster. He will always be my greatest inspiration.
My Cricketing Guru and Role Model:
I learnt the cricket basics from my Father how to hold Bat and how to grip a ball. How to turn the ball for Off Break and Leg Break. He was very perfect in line and length in his bowling and I have seen his off break with flights were difficult to hit. He was occasionally bowling leg breaks which used to be very difficult to read. His foot works were also very sound and because of his advantage of height he was able to shuffle quickly to negotiate the ball. Although whenever I played with him it was on nets, he taught me that it is important to stand on my own two feet comfortably and keep the head down and see the last minute of the delivery of the ball. I take pleasure in standing on my own two feet. I have always known that to be truly free and happy, I must be independent and self reliant. At times I have been afraid of failure and I thought that might not be able to meet my own needs, but now I know that no other person on earth can support and love me as much as I support and love myself.
I have always known that by working, I can protect my independence and my dignity. I don't wait for someone else to tell me what to do and how to do it. I am competent and productive person. By working, I find self fulfillment
His Daily Routine and Life Style:
If I have to describe his Life Style, there is no gainsay to mention that he adopted saintly life style gradually and perfected that over a period of time. Every day 6-8 Km of morning walk before that One Hour Yogaasan and after coming back from  walk he used to tune BBC News Service in Radio/Transistor, read daily local news paper  with a cup of Tea followed by shaving. Next was his schedule to work from Residence Office to read important case files and reference books followed by One Hour dictation to the stenographer who was attached to the court which he was holding/ All these things were getting completed by 9;30 AM. A shower followed by recitation of some ritualistic sholokas and some excerpts from Durga Saptasati, Shiva Mahimna Stotra, and Navagraha Stotra. By 10:00 AM he preferred to have lunch and then ready for Court to dispose the Daily Schedules like Chamber related work and Court Room related work. In the evening after coming back from Court he preferred to have evening snaxs and then by 7:00 PM he was off for evening walk either alone or with some friends. Normally the evening walk was more of various topics discussions and then by 9:00 PM he used to come back and spent some time to know what is the family related issues and how it all can be resolved. After dinner by 10:00 PM he used to go to bed after reading some devotional prayers book and other books of his interest.
My Fathers approach on savings ( He was giving small examples to save something to all of us).
Swami Ram : " The poor seek riches and the rich seek heaven, but the wise man seeks tranquility".
Saving is the art of managing financial resources by avoiding frivolous or needless expenses is surely a virtue. It takes a great deal of wisdom to use the resources we have judiciously because the outside forces that encourage us to spend and to consume are very strong. It is important to understand that managing our financial affairs wisely enables us to reach a higher level of freedom.
When I refer to the virtues of saying, the furthest thing from my mind is greed or the tendency to penny pinch. Instead, I think of all the great fortunes that were built on very little. The ability to find a golden opportunity may be an art, but refusing to waste is certainly a virtue.
One Farewell Note presented by some Civil Court Staff.
How deeply touching is the present scene:
He, who is picture of justice, is going away from us
Fetters even of iron snap in the world of ours,
The chain that does not break is the chain of Love that binds heart to heart.
Man owes it to himself to obey the dictates of humanity,
And that land is blessed where love reigns supreme
Of, my respected friends, this is the touches tone of life,
And Life is Love and Love is irrestible.
Who with the sabre of justice has cut through the injustices of the world?
Our separation is inevitable; however much I may try it shows friends that this is our predestined lot.
Ehsan regrets he could not serve better
This is not a poem, but it is the outburst of feelings of the heart.
His approach and attitude when he used to conduct courtroom sessions
Although I don't come from a Legal Profession but I had opportunity to register the observations on my father's approach when he used to conduct the proceedings in IJLAS(Court Room). I had several time the opportunity to accompany my father to his court mostly during my summer vacations and was allowed to use a stool to seat in the lower surface/floor of the Elevated court room. I observed that when he was taking notes of the proceedings he was a different person, his eyes, his facial expressions and the authority in which he was speaking and trying to bring out the reality and to get details of the Case History, was very different. He was more focused on to get the subject matter and apply different rulings and refer different judgments in similar cases in other parts of the country. He was impeccable in his analytical skills and was trying to apply in social context and make the judgments more close to natural justice and lesser and lesser litigation cost.
His interpretations on I.P.C. and C.P.C. and Cr.P.C. were equally brilliant and he was not jumping to any conclusion without doing several hours of reading, research and references. He also took interest in Constitutional Law, Industrial Disputes and Labour Laws. In fact after his retirement in 1979 September he enrolled himself as Advocate in Bihar Bar Council and his interests were primarily to focus on Labour Laws and Industrial disputes acts but it could not kicked off anytime because of his premature death.
One upon a time I was so influenced by his legal acumen and interpretations that I told him that I wanted to practice law as his junior but he asked me to concentrate in my graduation studies and after that try for Management education only in XLRI, Jamshedpur or in IIM (Ahmedabad, Bangalore or Kolkata). Again that remains unfulfilled desire of my professional career. He was also encouraging me to write Civil Services Examinations and if selected opt for Indian Police Officer (He had some personal fascination) but that also never happened as I was born with a Flat Feet (FF).
His fearlessness
I remember that my father was posted in many places in the state of Bihar which were known for notorious and criminal activities and several people were advising him not to move alone freely in Town but he was never hurt by any one rather he was kept in high respect among the litigants relatives and they were sure that Natural Justice will be given to them. There were murder cases, arsons and loot, dacoit cases and mafia cases but he was moving alone unarmed in the town and when I asked him he pointed out that belief in your God and Pray to give you strength to do natural and impartial justice for all
His Love for People of his Village
He was always teaching us that although we stayed in Town and City but our roots are from village and we need to learn the village fokal language and need to walk in barefoot in mud to balance in muddy road (At that Metal Roads inside villages were not seen). He was training me on this aspect. Since he spent several years in our native village Sakra in Baharagora block and Police Station of Singhbhum District, therefore he had a very specific attachment and affection and liking with the residents of that place. I remember that he used to go for morning walk in the paddy fields around putting a pair of wooden sleeper (KHADAM) and was aware of the entire household owners name and their family members too. Of his own he volunteered and helped many people to get some jobs as commensurate with their qualifications and skills and it was due to strengthen the financial income of their family so that in the situation of drought someone from their family working in Town can help others in village.
There were very few people of my father's age group who were working in Senior Government Officials Positions were willing to meet villagers and understand their problem and willing to volunteer the villages to provide some guidance, suggestions and exporing efforts for generating alternative source of income.
My father had his childhood friends in and around our village and whenever he was visiting in his young days to our village he was willing tom play exhibition Football Matches. Every year before Durga Puja I was accompanying my Father for Puja Haat to Baharagora from where we were spending 3-4 Hours to purchase the Puja Related items and after that we were walking back to our village and my Father was trying to give me several lessons and that helped me a lot in my life time.
Vigil and Agile for Protecting Personal Properties.
There were several instances when my father had filled cases against Government of India and Govt of Bihar for specific relief and reasons in order to protect the properties from Land Encroachment. He was referring me when National Highway 33 was designed and made it encroach our private Land and we were not given adequate compensation and my Father appealed for just compensation and he got it. Next one was Bihar State Electricity Board forcibly installed High Power (Voltage) Transmission Towers in our Land but after the Case which we won they removed the Towers and compensated us.  There were several such instances where he was fighting for his own Fundamental Rights which are provided in the provision of Constitution of India. He was drafting his own pliant in such a way that it used to appear that some practicing advocate has done this. Great Legal Acumen to understand and present in right way.
Three Road accidents and miracles
My father learned car driving at the age of 52 and that was one of the reason he was little hesitant in negotiating in critical juncture. From 1974 to 1979 he meet with three major car accidents and in all those incidents he was in Drivers's seat but fortunately and God's grace he was unhurt and never had any injury. Those who saw the cars after the impact where very shocked and they thought definite case of casualties but again its Gods grace and kindness that nothing happen other than severe damage of the Car.
Once he was travelling in a shared, hired passenger jeep from Ranchi to Daltangonj (a district in Jharkhand where he was posted as District and Sessions Judge). He was allotted a Back Seat in Bench. It was three and half hours Road journey and he was little uncomfortable but never requested for a replacement of seat as the Driver was allocating on First come First Serve. Somewhere around a place Lathehar this Jeep overturned upside down in the Road which was also a great escape and he had very few small injuries, it was another Miracle as the Roof of the Jeep was made of canvas material. . Later on when he reached the destination and with some reference people the Jeep Driver recognized him that he was the District and Sessions Judge of that District they regretted my father was O.K. and he said nothing to worry and he also emphasized that he was a normal shared passenger so they did whatever was applicable and he requested them if they can drop him in his official residence where he was staying. It was a wonderful experience for him as he survived again this was Fourth Time in row in Five Years duration.  He never expected any favor from any one when he was travelling in Bus or Train as he was treating himself like any other passenger. This was the kind of modesty which he tried to maintain throughout his Life and this helped him to inculcate among us that how important it is to maintain integrity, honesty and modesty to have a value based living in the social system.
Refusing to be afraid
 "Taking action despite fear is a proof of courage. Surprisingly, we act this way almost every day. If we were unable to face our fears, which of us would ever have changed jobs or moved to another city ? Furthermore, which of us would tackle the constant need to arrive at a better understanding of ourselves if we devoid of courage :  Sue Patton Thoele.
My father used to mention that I know I must confront my fears every single day. When I confront them, they seem so much smaller. Anxiety and uncertainty are totally normal reactions to the unknown and hard situations. Therefore, I resolve to use all the inner courage I have and to face every situation I encounter. When I face my fears, I can grow and I can move closer to self fulfillment. The road to inner harmony is filled with stumbling blocks. But I know that no obstacle and no fear are big enough to stop me.
About Author : Mr. Keshav Tripathy is a distinguished technocrat,
leader and visiting faculty (in Xavier Institute of Management, Bhubaneswar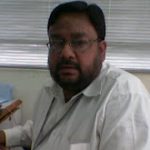 & National Institute of Science and Technology, Berhampur). He is also a
member IT Advisory Panel to UNFPA and UNICEF.[signoff1]