JAGATSINGHPUR Apr 01. The five day long, Jagatsinghpur Zilla Mahotsava Kallola 2016 organized by district council of culture was inaugurated by state finance minister Pradip Kumar Amat in a colourful inaugural function held at collector office parade ground on Friday night.

Addressing the occasion chief guest minister Mr Amat reiterated the history of Odisha and its formation in the year 1936 a first state of the country established on linguistic basis. Minister also highlighted the contribution of Jagatsinghpur district's freedom fighters during pre independence period. The soil of Jagatsinghpur delivers fragrance of Art, culture, music, literature and in politics its son late Odisha chief minister Nabakrushna Choudhury an ideal politician of the country.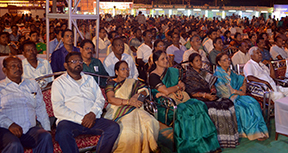 District collector cum chairman council of cultuer B K Upadhya chaired the inaugural event attended by MLAs Chiranjeev Biswal, Rajashree Mallick and Prashant Muduli, MP Kulamani Samal ,Municipality chairman Bipalab Choudhury, zilla prishad president, SP and ADM Jagatsinghpur and Bibhuti Patnaik attended the occasion as chief speaker, cultural programme Odishi dance was followed after the meeting.