The advent of modern culture, distaste of present generation towards the traditional festivals and lack of financial ability all apathy of various aspects to have contributed to the sharp decline observance of the swing festival ' Raja' once the festival was being observed with gusto and great éclat across in Orissa especially rural pockets of the state.
Raja carnival is celebrated in the month of Odia calendar Asara [middle of month June] every year and this joyous festival runs three days duration is highlighted with several traditional rituals in different phases usually calls as an woman dominated festival in Orissa , gone are the days when teen aged girls, women and youths were waited eagerly for the festivities of Raja , now most of them seem least interested on this festival and modernity taking its toll, and the celebration has also lost its grandeur owing younger generations abhorrence.
According to the popular tradition of Raja festival postulates that in the first day of the festival, maiden and young woman rises early in the morning, do their hair, anoint their bodies with turmeric paste and oil and take pacificatory bath in a river or pond and then wear new clothes and jewelry, however the strict ritual says that bathing for the rest two days is prohibited for women, also maiden to follows several does not as walking bare foot, scratching earth, grind, tear any thing apart, cook during the festival.
Mainly the festival observes, whole three days in gaiety and marry making ,non vegetarian food items are prepared an exclusive burned cake ' Poda Pitha' is made in each Odia house hold for the festival which name as special rituals of the festival.
Moving up and down on the swings during the festival is a special feature of the Raja festival, girls sing songs specially meant for the festival from Orissa folk poetry, however chewing ' Raja Paan' during the festival is a ritual.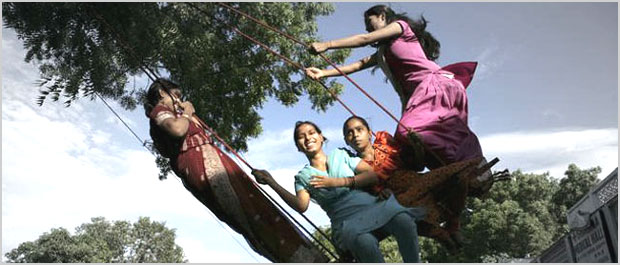 According to the great Orissa's popular belief as women menstruate which is sign of fertility so also mother earth menstruates During Raja festival, so all three days of the Raja festival are considered to be the menstruating period of mother earth so all agricultural operations remain suspended during the festival. As in Hindu homes menstruating women remain secluded because of impurity and do not even touch anything and are given full rest , so also during Raja the mother earth is given full rest for three days for which all agricultural activities are cancelled moreover people belief Raja inaugurates and welcomes the agricultural year all over Orissa, legend says.
The age old customs of Raja festival on the wane today, pointed out an octogenarian woman Dami Devi , explaining her early times even the poorest of the poor hade taken all interest to celebrate the Raja festival in family with customs but in present that It is rare to sight among people observing Raja celebration nowadays, she informs.
Most of rural and urban girls don't even remember the exact time of Raja celebration and its significance, and opine that our forefathers celebration Raja in big way does not mean that we should follow the same what they did appropriate at their time and what we are doing goes with our times, reasons Sunita Nanda, a medical student.
Nalini Ratha, a house wife from Rambhadeipur village says that her daughter Neha is happy with the new clothes and the rich foods and cake prepared on Raja festival while she is reluctant to follow the rituals connected with the Raja festival, she reveals.
Bamboo swings have become a rare to sight in the village, time was when swings of different variety like Ram Doli, Chakri Doli and Dandi Doli were seen in the country side but all that has become history.
The traditional drama, Yatra, Pala, Daskathia, Ghoda Nacha and fold dances have been replaced by video shows, VCDs and CD, the age trapping of new age entertainments, during Raja festival, Games like Kabadi and Bagudi Khela once pride traditional games of Orissa have also become rare, while few middle aged people are sighted playing cards in village Mandap, community centre and temple premises during the Raja festival.
One of the reason for Raja losing its charm is that families are now not willing to spend as much as they did earlier, one Dhirendra Prusty a resident of Tarikunda village admits that celebrating Raja has become a costly affair as one has to spend nothing less than Rs 3,000 to Rs 4,000 for an average four member family, so that becomes a yearly burden for each family and dissuade to observe it with much fanfare as earlier, he adds.
Expressing concern over the reverse trend being taken by the modern generation, few cultural conscious people opine that, celebration of Raja festival is the identity of Orissan's , if the present generation will go far from it , how they would trace their rich tradition and cultural heritage of the state, they fume.
Raja pattern does not augur well for culture of the state, the festival speaks of love, affection, respect, social behavior and social order among people, loosing its relevance in villages and urban areas under the influence of modern culture has taken toll as because Raja carnival loses its sheen, opines Dr Bholanath Rout, a research person.