The Odisha's traditional folk song and dance during the yearly Dola festival ' Laudi Khela is fast losing its popularity in state with due to lack of enthusiasm among Gopal community, with changing times it stands to lose originality and artists Gopal youths are quitting perform Laudi due to lack of dividends.
Laudi Khela was performed by Gopal [milk man] during Dola festival as a tradition in groups 10 to 20; they dance and sing song to recitations from Krushna Lila and myths associated with Lord Krushna and his attachments to Gopi's.
Earlier the Laudi songs were composed by Mahapurusha Achutyananda Das but many new composers of Laudi lyric have come up these days. According to Gopal community people say that the 15 th century poet Achutyananda had written eight epics popularly known as 'Gopalanka Ogala' for 'Laudi khela', the lyrics are divided in to two parts as Laudi songs and 'Ogala', questions and answers relating to the different mythology.
Laudi Khela recognizes as one of the folk dance of Odisha mainly seen at coastal districts have its unique style of presentation. The Laudi groups perform from Dola Purnima to Chaitra Purnima also the performance also being held as part of the family function and precedent for the Gopal's  to perform during Dola festival.
Moreover Gopal's usually perform Laudi Khela during Kumar Purnima, Rasa Purnima, Samba Dasami and Ratha Yatra as tradition of the community in their locality and many prominent shrines across the state every year.
Researchers have opinions that Laudi Khela is similar to Dandiya Nrutya at Gujurat, Garba Nrutya at Utar Pradesh, Kolan dance in Andhra Pradesh, Labani Nrutya of Bihar states, but Laudi Khela however is on wane in Odisha with neither the performers nor the viewers evincing much interest, informs Shyama Sundar Das, secretary Odisha Yadav Mahasava , a state level organization of Gopal community.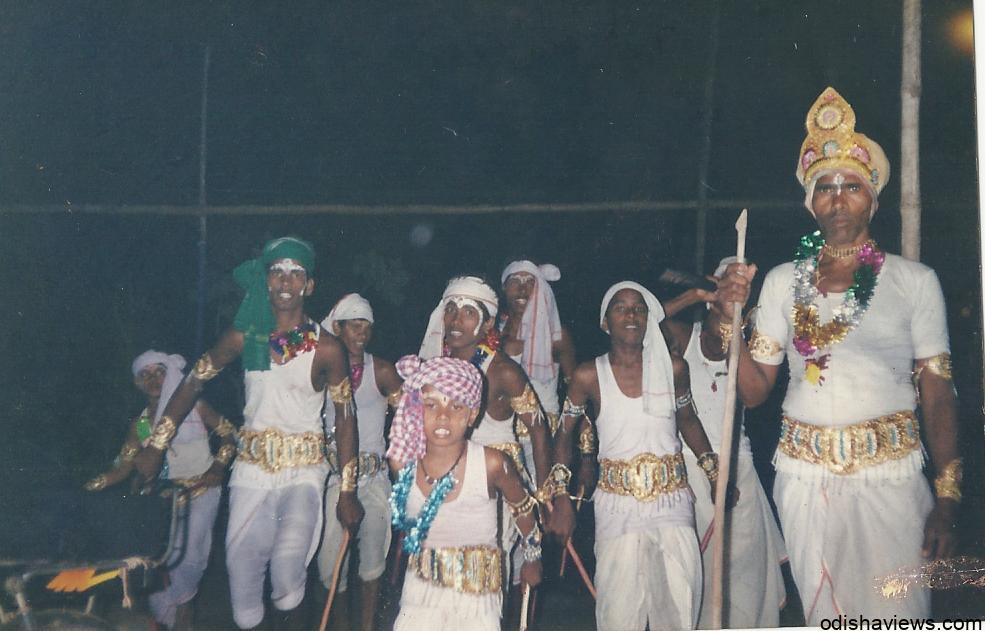 The origin and style of presentation of Laudi Khela yet await for research, generally Gopal people are ascertained that Laudi Khela was originated during Dwapara Yuga, during that time Gopal people are used to go forest for herding cows ,while herding the cattle in forests the cow herd boys were using sticks for the purpose of controlling them from defending wild animals, observing the natural views of forest, river, creeks, streams, blue sky, fragrance of flowers, dancing  peacocks and whipping  of birds in forests they impressed and started to dance and sing stricking the sticks under their possession as musical instruments observing the natures bounty, origin of Laudi has been ascertained by many researchers of Odisha.
Laudi Khela dies not attract performers as before , the young generation are not keen to act as a Gopal with two sticks with hand singing and dancing to the traditional tune and rhythms fix for Laudi Khela besides some changes have been brought in the Laudi Khela to go with new themes today.
Senior performers lament the loss of the intrinsic features of Laudi Khela , Basu Behera an octogenarian Laudi exponent informs that once it used to be compulsory for every male member of Gopal family to participate in Laudi khela, those who defied the rules were punished severely by community people, ironically the rules no longer exist today and it is tough searching for artists on the Dola festival to perform Laudi as custom and tradition of the Gopal community to perform Laudi, he views.
Laudi singer Bula Behera   says that earlier the Laudi performers were used to tour villages displaying their arts and being rewarded in return with cash, rice, vegetables and cocoanuts but the custom seems to be fading today, he maintains.
For rejuvenating Laudi Khela in state the Yadav Mahasabha has been organizing a state level Laudi Utsava at Nemal in Kendrapada district , the holy birth place of Mahapurusha Achutyananda Das during each year Dola festival since year 1993, similar Laudi performances are being held at Dhyanakuda Pitha in Biridi block of Jagatsinghpur district in each year Dola celebration  past three years, moreover Yadav Mahasabha has been asked community people to establish Laudi troupe in every village where Gopal people are living and take steps to impress young generations to be attracted performing Laudi Khela, despite such endeavors Laudi Khela is losing its fame and charm in Odisha, opine many Gopal people .