JAGATSINGHPUR Apr- 02. The five day Jagatsinghpur Zilla Mohatsava Kallolo- 2013 organized by district council of culture was inaugurated by state minister tourism & culture Maheswar Mohanty amidst the tune of drums and sounds of crackers at collector's parade ground here on Monday , in presence of senior MLA Bishnu Das, MP Bibhu Prasad Tarai , Balikuda legislator Prashant Muduli, Zilla Parishad president D B Mohanty, former collector N C Jena, municipality chairman M S Sahoo, Superintendent of Police S B Bhoi, and district collector S K Mallick was presided the function.
This annual celebration provides an insight in to the rich and vibrant cultural tradition of region including state and country and will continue till April 5. Depicting Jagatsinghpur's past history and glory Kallolo 2013 show cased the traditional art and craft of the state and provides artisans, participant visitors a plat form to exchange ideas for up building the region.
Originally Zilla Mohatsva was brain child of senior MLA Bishnu Das who started it being inspired with two major cultural events of district Kalinga Bali Yatra Paradeep and Jagatsinghpur book fair in the year 2001, the vent witnessed an increase number of participants and the Mohatsava drew a large number of audiences who lapped up the cultural functions.
MLA Bishnu Das preferred this annual celebration organized regularly inviting state chief minister, minister's eminent dignitaries in regular interval and obviously the five days function turned to a platform to spread the state government's several developmental messages. On opposition political parties including Congress protested using the Mohatsava a political platform to develop his political image and popularity in the district and alleged serious mismanagement and corruption were marked collecting donations for the occasion several times but that less heard.
But mounting pressure from several quarters district council of culture took the responsibility organizing the function three years ago and much more interest have put maintaining transparency and probity in details of receipts and expenditure on the Mohatsava and details balance sheet would be published officially at earliest and local people including political parties, denizens from every walk of life have taken in to confidence hosting this annual celebration , remarked S K Mallick district collector.
This year the organizers have made elaborate arrangements to allot more than 100 stalls for the private and government sponsored departments and charges have fixed sparing the stalls, including public meeting and to stage cultural functions at night on all five days.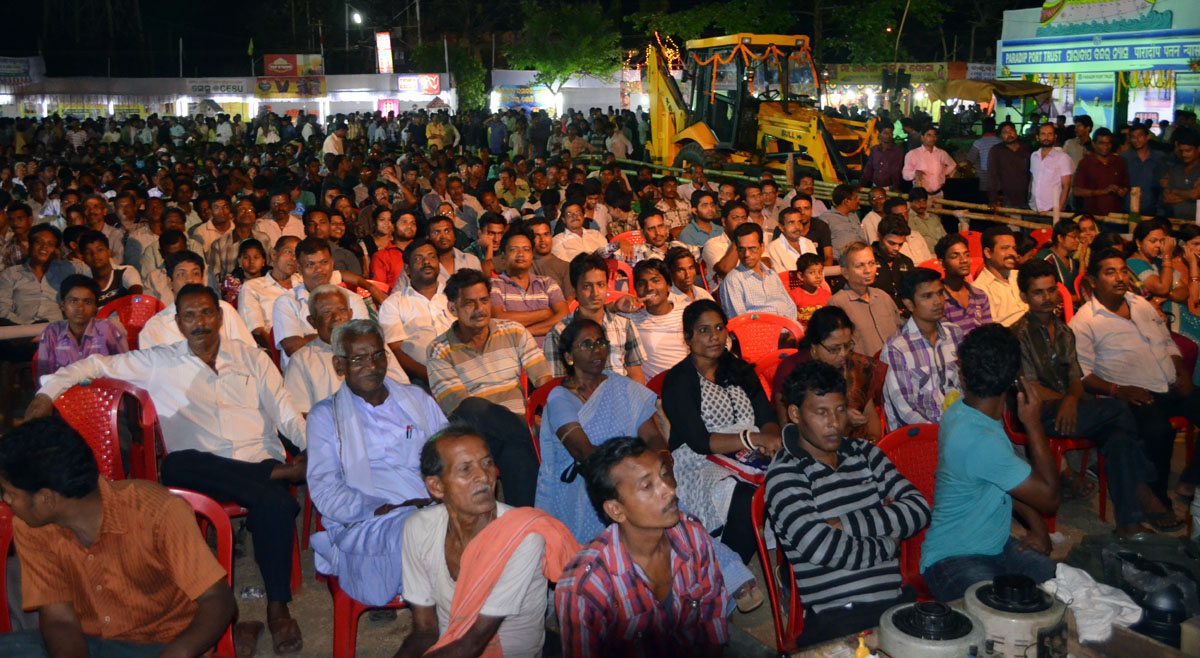 Addressing in the inauguration function minister Maheswar Mohanty reiterated the past glory of Odisha and its formation in the year 1936 and appealed all attending audiences to write, speak and listen Odia in day to day life. MLA Bishnu Das remembered late Biju Pattnaik who had given Jagatsinghpur a district status in the year 1993.
After the inauguration meeting a cultural programme was followed by renowned singer Udit Narayan and his troupe who repeated his Odia songs and mesmerized the audience.