BHUBANESWAR . A two day Rotary International Multi District President and Secretary Elect seminar had held at the Mayfair Convention in Bhubaneswar. above 500 Rotarian's from Nepal, Bhutan and India had participated in this two days event.
The Rotary International President Elect Mr John Germspoke on the theme 'Rotary Servicing Humanity" had stressed the need for selfless service and integrity as value system for Rotarian's. We must extend our hands to the different service projects taken up by our clubs for the uplift of the community at large. he maintained.
The Rotary International Director Mr Manoj Desai had focused on the ongoing activities of Rotary and inspired the upcoming Presidents and Secretaries Elect to take proper knowledge about the past projects. He had appreciated the Nepal President Elect for his outstanding contribution and proactive planning for the year 2016-17.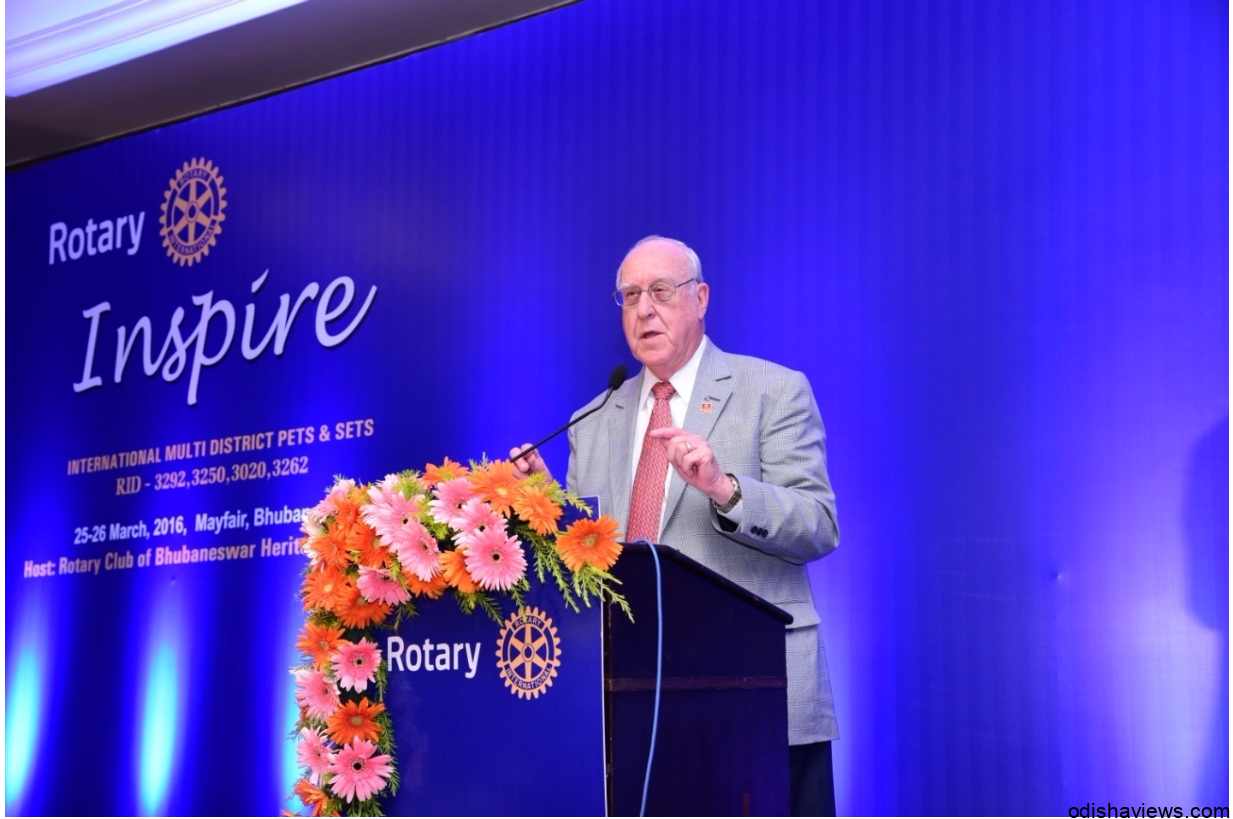 People have faith in Rotary and as Rotarian's we must make all out efforts to justify people's faith in us Mr Desai added.
He also emphasized on team work and said together we will be able to achieve many more milestones, Mr Desai opined.
Mr Sushil Gupta, the former Rotary International Director emphasized the role of Rotary in spreading fellowship and peace and also focused on the core hallmarks of Rotary- Caring and Compassion.
The seminar coordinator and Past District Governor Mr Kamal Sanghvi appealed to the President Elects to enthuse and ignite their team members for a successful Rotary Year.
Among others who spoke on the occasion were District Governor Mr Shibabrata Dash, District Governor Elect Brig. Narayan Nayak , District Governor Nominee Ajay Agarwal, District trainer Past District Governor Dillip Patnaik,Past District Governor Ravi Narayan Nanda and Past District Governor A B Mohapatra in different plenary sessions. Arrangements have also been made for the visiting Rotarian's from India and other countries to visit tourist places like Puri, Konark and other local places of interest.
As Rotary is the world leader and well known for its Social Projects like eradicationof POLIO, Mission Swachh Bharat, Swachh Vidyalays, Wins Programme – Water Sanitation & Hygiene in Schools of Projects carried out through out the World.
This International mega event was first time hoisted in Bhubaneswar by ROTARY CLUB of Bhubaneswar Heritage under the leadership of Rtn Debabrat Panigrahi, Chartered President of the Club and his team members..