JAGATSINGHPUR Feb 20. Normal life and port business was on Wednesday disrupted in Paradep port town and adjoining areas due to the country wide two days general strike called by recognized central trade unions and independent federations of workers and employees.
Central government offices, banks, insurance companies, shops and educational institutions remained closed during the strike, vehicular traffic also remained off road during the whole of the day in entire Paradeep . cargo handling and port business was completely stalled as workers and employees stayed away from works while reports said several trade unions staged a protest meeting in front of PPT administrative building where trade union leaders fumed against union government for its in action and total indifference towards the miserable plight of the workers of the country, we all the trade unions have united against the government, after today's response we feel secure that the general people were with us as the strike drew spontaneous support from people from all walks of life, informed Sudhakar Mantry , PPT trust board member and working president Paradeep dock and Transport workers union. However agitated trade union leaders were resorted Rail Roka at Rangiagada in the outskirts of Paradeep as result rail services were completely paralyzed.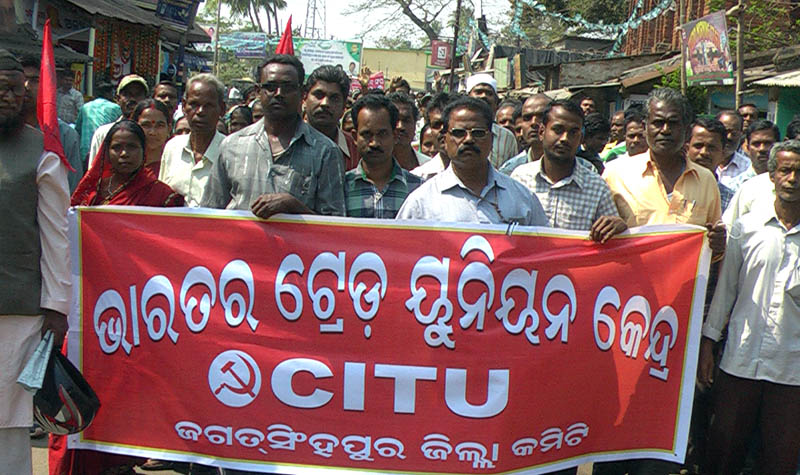 In jagatsinghpur headquarters the general strike received partial impact, all the central government offices, banks, insurance company, postal, telecommunication employees went on strike while state government offices functioned normally and school and colleges remained open. While bus services to Jagatsinghpur remained off, Odisha construction workers union resorted a protest meeting in front of collector office here, while the strike passed off peacefully in district no untoward incidents reported so far anywhere in district informed, S B Bhoi, district superintendent of police.