Paradip. July 28. Dr M Veerappa Moily, Union Minister for Petroleum and Natural Gas, visited Indian Oil's prestigious Paradip Refinery Project being implemented in Odisha at a cost of Rs 30,000 Crore. He was accompanied by Shri Srikant Jena, Minister of State Fertilizers and Chemicals and Programme Implementation and Member Rajya Sabha, Shri Ram Chandra Khuntia and Member of Odisha Legislative Assembly, Shri P. Harichandan. Minister Dr. Moily, had inaugurated the Main Control Room of proposed IOCL project including made spot visit to Atmospheric Vacuum Distillation unit, Fluid Catalytic Cracking (INDMAX) unit, Delayed Coking Unit and Crude and Product tank ages area of Paradip Refinery Project during his few hours stay at Paradeep.
Speaking to Indian Oil employees, Minister Dr. Moily said, the country is proud of Indian Oil and commissioning of Paradip Refinery will further enhance Indian Oil's growth in country. Best talent has been deployed in the execution of this project and we need to work with missionary zeal to complete this project, He assured giving all out support to Indian Oil and called for all efforts to complete this project likely be inaugurated before March 2014, Minister Moily maintained.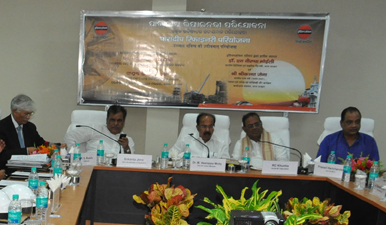 Shri Srikant Jena appreciated Indian Oil for taking up such a massive project and extended helping hand to resolve all the problems to achieve early commissioning of the refinery.
Welcoming the distinguished guests, Indian Oil Chairman Shri R S Butola said that 15.0 MMTPA state–of–the-art Paradip Refinery will take the Indian Oil group refining capacity to over 80.0 MMTPA thereby meet the growing energy needs of the country.
Epitomizing the Paradeep refinery's project profile Shri Butola revealed that the highly complex and most modern refinery is conceived to process 100% high -sulphur including 40% heavy cheaper crude for better profitability. This energy efficient refinery will meet the spiraling domestic demand for LPG, petrol, diesel, ATF and other petroleum products in eastern India and beyond. It will also produce petrochemical feedstock such as propylene. Paradip will have best-in-class distillate yield with products meeting stringent quality and environmental norms.
The diameters of the primary columns – Crude Distillation and Vacuum Distillation – are the largest in the world. The Coke Chambers of the Delayed Coker Unit are also the world's largest. Transportation and erection of these massive structures required construction of reinforced roads and specialized transportation systems.
The Refinery shall consist of Crude and Vacuum Distillation Unit, VGO Hydro Treating Unit, INDMAX – Fluidized Catalytic Cracking Unit designed with IndianOil's own technology, Delayed Coking Unit, Alkylation Unit, Diesel Hydro Treating Unit, Naphtha Hydro Treating Unit, Catalytic Reforming Unit, Propylene Recovery Unit, Hydrogen Unit, Sulfuric Acid Regeneration Unit, Sulphur Recovery Unit and other associated product treatment units, Shri Butola revealed.
Petroleum Minister Dr. Moily, inaugurated the Main Control Room which will control the process units of Paradip Refinery project will be operated through different control system installed in Main Control Room which is the biggest control room among the Indian Oil refineries. This blast proof control room is having all the Control Systems and Safety Shutdown systems for control, and monitoring of major process plants.
A combination of approx. 80,000 open and closed loop process parameters of these process units will be controlled through 46 operator stations installed in this control room. Further visibility of the respective process plants have been given to the plant operators by way of providing field mounted CCTV cameras along with monitors installed in this control room.
All control systems as DCS (Distributed Control system), ESD (Emergency Shutdown System) have been designed based on the process requirements given by different process licensors like FWEL (UK), Shell (Netherlands), Axens (France), IOCL (R&D)-ABB Lummus , Foster Wheeler (USA), UOP(USA), Basell (Italy), Black & Veatch(USA. This main control building is aided by another 7 satellite rack rooms for housing the control systems of different process units in a decentralized manner to take care of scattered locations of different process units across the refinery plot. Main control room is connected through Optical Fiber cables to other 3 control rooms and two fire stations (North & South) for data exchange. Main control room is provided with all monitoring systems for Fire and gas detectors located across the refinery units.
To meet its power requirements the refinery is setting up Indian Oil's largest captive power plant of 366MW capacity.
Presentations were made to explain progress of the project to Hon'ble Ministers during their visit. Shri R K Singh, Joint Secretary [Refineries], Ministry of Petroleum & Natural Gas, Director [Refineries] Mr RajKumar Ghosh and Director [ Mktg] Shri M Nene were also present on the occasion.
Presentations were made by Executive Director [I/C], Paradip Refinery Project Shri Sanjiv Singh, ED, Paradip-Ranchi Pipeline, Shri A S Mallick and ED[Operations], Mktg Division, Shri S Balasubramaniam to the Ministers to explain the uniqueness of this project of national repute.