Jagatsinghpur July . 10. The annual Ratha Yatra festival was observed with much fanfare and gusto in several places of Jagatsinghpur district on Wednesday. No untoward incident was reported during the festival across the district as administration and police had made elaborate arrangements for the safety and security of the devotees and visitors.
Sources said that the Ratha Yatra is popular in six major places in different blocks of the district like Sidhal, Dhyana Kuda, Garei, Sarabanta, Gadakujanga and the port town of Paradeep where there are big Jagannath temples exist. The festival is also observed in almost all the villages of the district where devotees had noticed pulling of small chariots.
The ceremonial procession and ritual connecting with the fest of the deities to the chariots took place after the customary sweeping of chariots by eminent personalities of the locality.
District collector S K Mallick attended the Sidhal Ratha Yatra six km away from Jagatsinghpur town and performed the sweeping ritual on Wednesday afternoon after which the chariot was pulled, report said that nearly 20,000 devotees form surrounding villages had witnessed the festival.
Ratha Yatra was also celebrated in Dhyanakuda Jagannath temple in Biridi block, chariot pulling was started after 4 pm, Pramoda Nandi local designated king of temple was performed the sweeping ceremony and Baba Arakhita Das coordinated the celebration thousands of devotees thronged to the occasion following whether condition put good.
.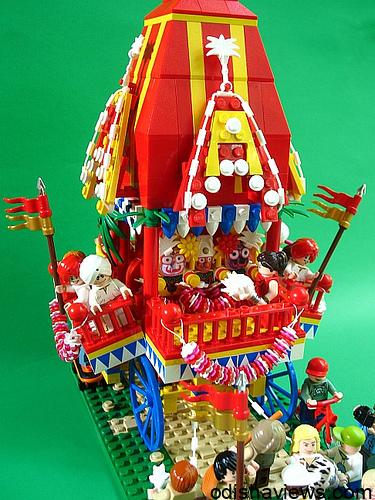 The Jagannath temple at Garei in Naugaon block also witnessed about 5,00,00 devotees on the occasion, Kedar Nath Biswal Thakur Raja of the temple performed sweeping of chariots and pulling of chariots had started after 5 Pm. In coastal Erasama block Rath Yatra was celebrated in Sarabanta Jagannath temple in Gadaharishpur Panchayat, report said that a huge crowd from surrounding villages congregated to participate in this annual festival.
Rath Yatra was also celebrated in a big way in the port town Paradeep , PPT chairman S S Misra performed the sweeping ritual of the chariot and devotees pulled the chariot at 3pm, then the deities reached at the Mausi Maa temple in Madhuban as per scheduled.
The most glittering Rath Yatra is observed at Kunjabihari temple in Gadakujanga Panchayat near Kujanga where the chariot is pulled after a day. On the day of annual Rath Yatra all rituals are performed and the deities take rest in the chariot till the next day when the chariot is pulled by large number of devotees. Acting on the rich precedent of this Ratha Yatra sweeping ceremony was performed by state health minister Damodar Rout on Wednesday evening and the deities took halt in chariot, taking stock of the recent Posco standoff elaborate security arrangements had made but no untoward incident reported so far and thousands participated in the event.