Paradeep July 24. Jyoti Ladies Club, a Woman Social Wing of IFFCO's Paradeep unit, conducted its 4th women health check up camp Sustha Balika Programme at Abala Sundari Girls High Schoo near Kharanasi under Kendrapada district on Tuesday, Smt Saroj Gandhi president Jyoti ladies club inaugurated this one day camp.
Smt Gandhi speaking on the occasion informed that, this project has been sponsored by IFFCO's, Paradeep Unit in association with Jyoti Ladies Club of IFFFCO. The programme aims that providing free periodical health checkup for school going girls in regular intervals with a team of doctors and medicos. The programme adds with conducting some essential medical examinations of school going girls to find out their adolescent deceases. This project has been aimed to eradicate malnutrition and help improve the health status of girl child in rural areas, so also it will address the problems of anemia mostly prevalent among the school going girls, Smt Gandhi maintained.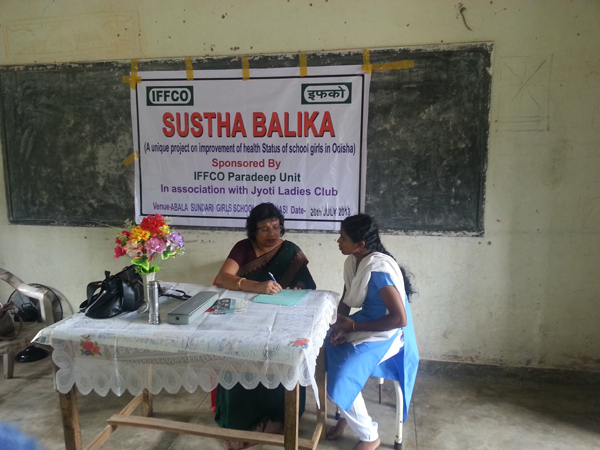 As many as110 girl students were examined and were given Health Cards. Blood Groupings as well as hemoglobin tests were also conducted. Free Medicines and vitamins were distributed among the participant girl students, The medical camp was conducted by Dr. Puspa Mohanty, DGM (Medical & HS), Dr. Prativa Patanaik and her team assisted by medical staff of IFFCO Hospital and the programme was co ordinate by B K Sahoo, IFFCO's Public relations manager.