Jagatsinghpur June 19. A seminar on "Reformsin Indian Fertiliser Sector- Challenges & Opportunity "was held by Fertiliser Association of India (FAI)- Eastern Region, inIFFCO Paradeep on wednesday . The Seminar was inaugurated by Mr RS Gopalan,IAS, Director of Agriculture, in the Conference Hall ofIFFCO Paradeep Unit . Mr SK Gandhi, Senior General Manager and Unit Head of IFFCO Paradeep along with Mr KK Sahu, Traffic Manager, Paradeep Port also joined this inaugural programme as Guest of Honour. Mr YVN Murty,Regional Head of FAI, Eastern Region, co ordinated this programme.He explained about the necessity of fertilizer and current challenges faced by fertilizer industries. About 32 delegates from several fertilizer industries across the country had participated this three days seminar. Major fertilizer industries like IFFCO, PPL, NFL, RCF, Tata Chemicals and Coromondel Fertiliser deligets had spoken the present scinario of the fertiliser business in recent times and the probelms affecting the fertiliser production, this is the first time IFFCO Paradeep unit has hosted the seminar.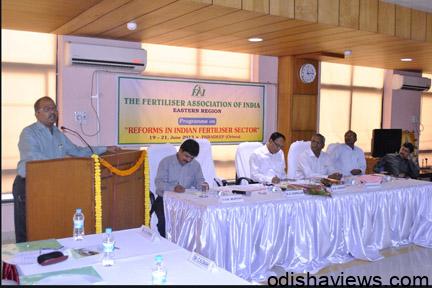 Mr RS Gopalan, Director of Agricultureduring his inaugural speech stressed giving fertiliser Subsidy to the farmers of the country. IFFCO unit head Mr Gandhi also spoke about the various constraints of fertilizerindustries and welcomed the FAI for choosing IFFCO Paradeep Unit to organizesuch a novel Programme. On behalf of Paradeep Port Mr KK Sahu, TrafficManager, highlighted the participants about the facilities of ParadeepPort.
Mr Premankur Bhattacharjee, Jt. GM (HR), IFFCOgave away the vote of thanks on this occasion. . Officers of IFFCO,Mr AK Sinha, Sr. GM, Mr AK Panda, GM, Mr PV Narayana, GM, Mr JosephMirinda, CM, Training and B.K. Sahoo, Manager (PR) were also present onthe occasion.