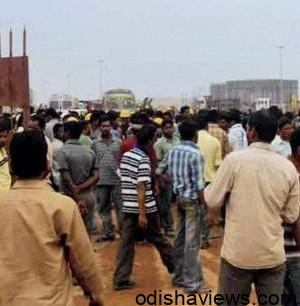 IG crime visits Paradeep , discussed coastal security with cops.
JAGATSINGHPUR  Mar 02.  The Inspector General police [IG]crime B N Jha on Friday visited Paradeep and discussed with cops with regard to setting of second marine police station at Paradeep and overall security arrangements protecting the coastal region of Jagatsinghpur.
A review meeting was held in Nehru Bungalow on the outskirts of Paradeep town, superintendent of police Jagatsinghpur and Kendrapada districts along with senior police officials from both the districts took part in the meeting and explained the visiting senior cop's quires about the coastal security situation. IG Mr Jha informed at the meeting that state government on principle has decided setting of two more marine police stations in Jagatsinghpur and Kendrapada districts looking its vulnerability over security reasons, earlier two marine police stations have been functioning at Paradeep and Jambu  so IG asked attending cops with regard to site selection of the second marine police station likely to be set up in both the districts, however IG stressed for checking crimes and misdemeanors police personnel should coordinate themselves and advised both districts cops to share information's and operation each others for which good policing would be delivered to general public and crime rates would be checked, IG maintained.