Makar Sankranti is a major harvest festival celebrated in various parts of India. According to the lunar calendar, when the sun moves from the Tropic of Capricorn to the Tropic of Cancer or from Dakshinayana to Uttarayana, in the month of Pausha in mid-January, it commemorates the beginning of the harvest season and cessation of the northeast monsoon in South India. The movement of the Sun from one zodiac sign into another is called Sankranti and as the Sun moves into the Capricorn zodiac known as Makar in Hindi, this occasion is named as Makar Sankranti in the Indian context. It is one of the few Hindu Indian festivals which are celebrated on a fixed date i.e. 14 January every year (or maybe sometimes on 15 January).
Makar Sankranti Significance
Makar Sankranti is the day when the glorious Sun-God begins its ascendancy and entry into the Northern Hemisphere and thus it signifies an event wherein the Sun-God seems to remind their children that 'Tamaso Ma Jyotir Gamaya'- may you go higher & higher, to more & more Light and never to Darkness.
To Hindus, the Sun stands for knowledge, spiritual light, and wisdom. Makar Sankranti signifies that we should turn away from the darkness of delusion in which we live, and begin to enjoy a new life with bright light within us to shine brighter and brighter. We should gradually begin to grow in purity, wisdom, and knowledge, even as the Sun does from the Day of Makar Sankranti.
Makar Sankranti Celebration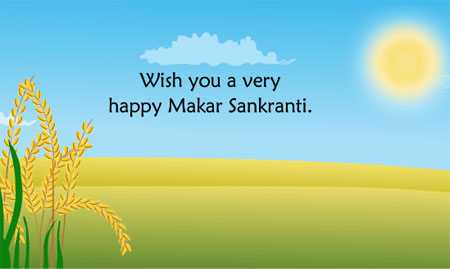 In Odisha, people prepare 'makar chaula(uncooked newly harvested rice, banana, coconut, jaggery, sesame, Rasagola, Khai/Liaa, and chhena puddings for naivedya to gods and goddesses. The withdrawing winter entails a change in food habits & intake of nourishing and rich food. Therefore this festival also holds immense scientific significance. Devotees also worshiped the sun god at the great Konark temple with great fervour and enthusiasm as the sun started its annual swing northwards, according to various Indian calendars. According to the Sun's movement, the days from this day onwards become lengthy and warmer and so the Sun-God is worshiped as a great benefactor. Makar Mela(Funfair) is observed at Dhabaleswar in Cuttack, Hatakeshwar at Atri in Khordha, Makar Muni temple in Balasore, and near various deities in each district of Odisha. In the temple of Lord Jagannath, this festival is observed as Nabanki and 'Uttarayana Yatra'. In Mayurbhanj, Keonjhar, Kalahandi, Koraput, and Sundargarh where the tribal population is more, the festival is celebrated with great joy. They have been celebrating this festival with great enthusiasm. They sing, dance, and enjoy. Many tribal in our country start their New Year from the day of Sankranti by lighting bonfires, dancing, and eating their particular dishes sitting together.