29 January, Bhubaneswar | Odia Wikipedia (http://or.wikipedia.org) is a free online encyclopedia in Odia language. A workshop was organized to celebrate its 9th anniversary. The topic for discussion for this workshop was "Application of Odia language in e-media". Chief guest Prasanna Kumar Mohanty, Director of "Odia Bhasa Pratisthan" spoke about the how the true form of the language should be taken to public via media. "Many a times we need to sacrifice our conventional way of approach and adopt new technologies like Wikipedia. Many of such efforts are not rewarded because of the lack of support from the government even though there are funding available for such development. We should plan out well and go to the government to take this initiative to the government", he said.
Eminent Odia linguist Prafulla Tripathy explained about the lack of public interest to pledge for declaring Odia as a classical language even though Odia holds the 31st position among all world languages. This is for the better of 4 Cr Odia. "The language of our personal lives, social interaction and verbal communication never get documented. The confusion among various linguists is another obstacle to take Odia to a global level. If the script grammar is kept in focus and script and eventually the fonts are simplified then they would be easier to be used online", he expressed. Dr. Tripathy also shared his experienced his interaction with other Indian language experts where he worked on OCR (Optical character reading) software which could be a great tool to digitize many precious resources. He offered his support for helping with OCR in Odia. Few other aspects of simpler approaches of scripts discussed were glossary, Odia-English and English-Odia lexicon, spell check feature for typing and interactive e-learning which could boost the effort of the wikipedians.
Prof. Dhanada Mishra, eminent educationalist and Director-Academics, KMBB College of Engineeringtook the audience through the free and open source culture and Linux and future role of Odia Wikipedia to tackle the problems of primary education. He thanked the wikipedians for their noble effort and showed his interest in promoting it more in academics.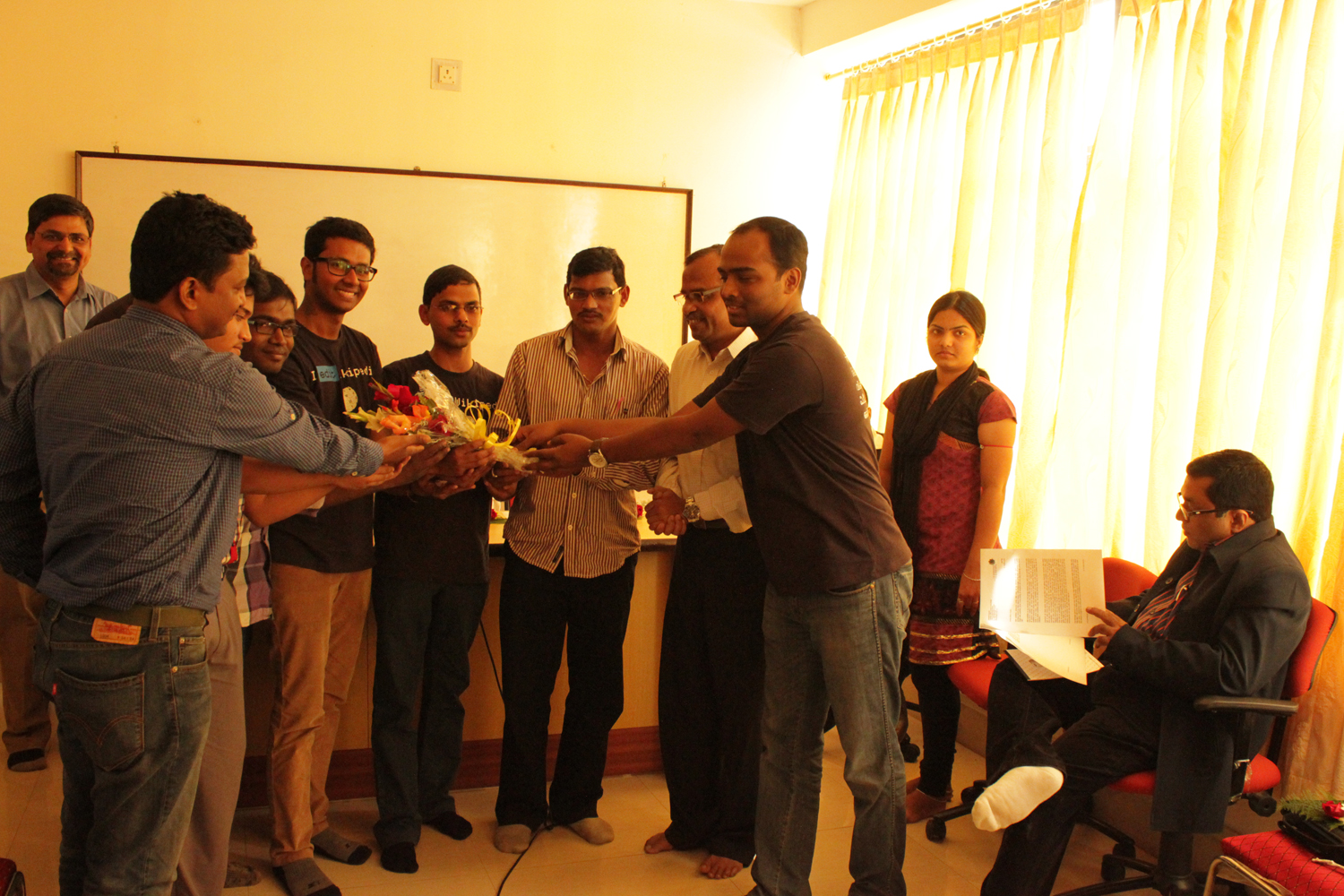 Jatindra Das, founder of first online Odia newspaper Odisha.com discussed about the hurdles of using Odia Unicode and acceptance level in the society for it. Senior journalist Subhransu Panda talked about the usage of various fonts and how adopting Unicode could bring a lot of information to public.
Subhashish Panigrahi, Programme Officer, Centre for Internet and Societydiscussed about the role of Odia Wikipedia in documenting various resources in Odia Wikipedia. He discussed about the various technical problems common men face while typing, contributing to Wikipedia and how they could be handled. Nilambar Rath, Director, Academy for Media Learning talked about the future efforts of Odia Wikipedia community and thanked them for their noble effort.