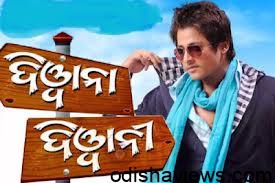 Deewana Deewani new Odia movie of Babushan
One of the most talented star BABUSHAN MOHANTY (Son of Uttam Mohanty & Aparajita) comming with a new movie Deewana Deewani, which is ready for release. The Audio release has been done on March 6th, produced by Sun Music, at Ekamra Haat, Bhubaneswar. As the movie is based on a love story , everyone should expect good soul stirring romantic music from the movie. Prasant Padhi is music director.
Upcoming Odia Film "Deewana Deewani" is produced under the banner of Mahadev Films & directed by Ashok Pati, Story and Dialogue by Rajniranjan.
The starcasts are Babushan and Madhumita in the lead; Minaketana, Pintu Nanda, Preetiraj, Jeevan Panda, Debasis and others are in other roles.
Cast and Crew
Film Name: Deewana Deewani
Producer: Pramod Swain, Shiba Prasad Dash
Director: Ashok Pati
Banner: Mahadev Films
Actor(s): Babushan Mohanty, Madhumita
Music Director: Prasant Padhi
Lyrics: Arun Mantri, Nirmal Nayak,